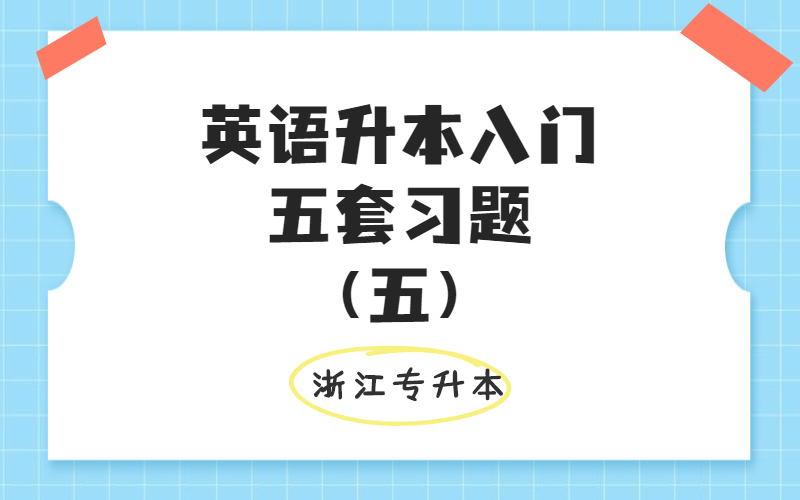 英语作为浙江专升本必考的一门科目,其重要程度不言而喻,因此今天小编就给大家整理了升本入门必备的习题,供大家学习~
第五套
练习
(bay ─ bleed)
1. After swimming in the sea, they came out of water and lay on the_____ for a rest.
A. bank B. coast C. seaside D. beach
2. The old woman could not_____ the terrible noise, and she had to close the door and windows.
A. bear B. accept C. receive D. hold
3. Tom,_____ yourself. Did you forget the school rules?
A. behave B. believe C. perform D. conduct
4. It's bad_____ for a man to smoke in the public places where smoking is not allowed.
A. behavior B. action C. barrier D. belief
5. They have been waiting for many hours to see the singer, but the airplane must have been_____ .
A. behind the times
B. behind schedule
C. ahead of time
D. in no time
6. There is a common_____ that eating sweets before meals is considered to have the chance to spoil the appetite.
A. behavior B. belief C. basis D. battle
7._____ this dictionary_____ to your brother?
A. Does; belong
B. Is; belonged
C. Has; been belonged
D. Is; belonging
8. The boy sat at the top of the hill, looking at the valley_____ .
A. under
B. above
C. up
D. below
9. The old man is used to sleeping without a pillow in order to keep his back from_____ .
A. bending
B. bowing
C. breaking
D. bouncing
10. ---What else do you want? ---_____ the books we have got, we need some ten more.
A. With
B. Except
C. Unless
D. Besides
11. Among them I like this kind of food_____ for it is_____ sugar and water.
A. best; mostly
B. best; most
C. most; best
D. most; mostly
12. ---What do you think of the film? ---Oh, I've never seen_____ .
A. the better one
B. a better one
C. the best one
D. a best one
13. Reading_____ the lines, I would say that the government are more worried than they will admit.
A. behind B. between C. along D. among
14. ---Can he take charge of the computer company? ---I'm afraid it's_____ his ability.
A. beyond B. within C. of D. to
15. ---If you don't like the red coat, take the blue one. ---OK, but do you have_____ size in blue? This one's a bit tight for me.
A. a big B. a bigger C. the big D. the bigger
16. He was_____ by a mosquito when he was doing his homework.
A. scratched B. pricked C. stung D. bitten
17. You will not know whether it is_____ or sweet if you don't taste it yourself.
A. boring B. cheerful C. changeable D. bitter
18. I feel it is your husband who_____ for the spoilt child.
A. is to blame
B. is going to blame
C. is to be blamed
D. should blame
19. At that time, my mind was a complete_____ , I couldn't think of single answer.
A. blank B. barrier C. blow D. bottom
20. I saw his cut_____ onto the ground when I got home last night.
A. to bleed B. bleeding C. stress D. stressing
答案
1—5 DAAAB
6—10 BADAD
11—15 ABBAB
16—20 DDAAB
以上就是小编为大家整理的浙江专升本英语入门必备模拟题资料了,请大家持续关注浙江专升本网,小编会为大家带来更多升本资讯和升本问答~