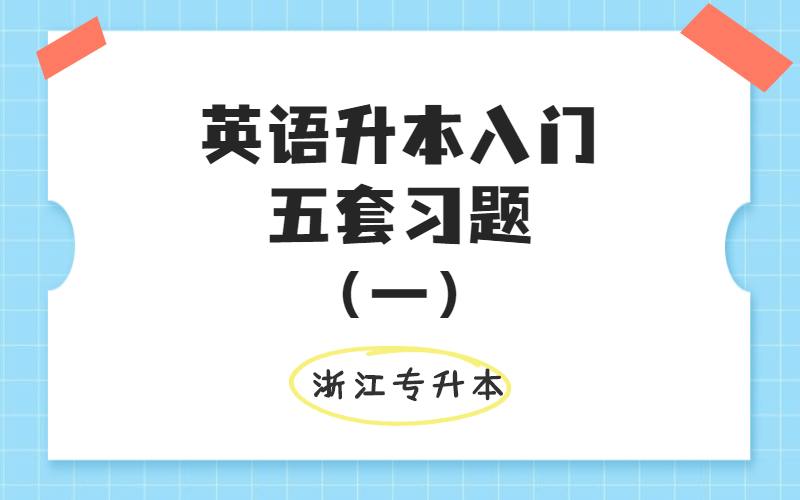 英语作为浙江专升本必考的一门科目,其重要程度不言而喻,因此今天小编就给大家整理了升本入门必备的习题,供大家学习~

练习1
(a ─ against)
1. It is believed that_____ graduate from_____ well-known university is more likely to find a good job.
A. a; the B. a; a C. the; a D. the; the
2. It's hard to measure his_____ when we haven't seen his work.
A. ability B. appliances C. facilities D. qualities
3. He often leans over the fence and talks endlessly with my father_____ gardening problems.
A. to B. of C. about D. on
4. The moon was_____ the trees when we got home.
A. in B. on C. above D. against
5. ---What was the real reason for your_____ from the meeting? ---I got lost on the way.
A. absent B. absence C. presence D. present
6. His_____ suggested that he was an American.
A. voice B. sound C. accent D. appearance
7. He didn't_____ the invitation sent by a foreign company asking him to go to work in it.
A. accept B. keep C. assist D. receive
8. On the way home, my father told me of an_____ that happened last May on Highway 104.
A. incident B. accident C. affair D. fairy tale
9. If a person does not receive the gene for right-handed he may become right-handed or left-handed_____
chance and the person's surroundings.
A. because of B. according to C. due to D. related to
10. I hope my teacher will take my recent illness into_____ when judging my examination.
A. regard B. account C. thought D. observation
11. He will never_____ anything if he doesn't work hard.
A. hope B. wish C. achieve D. succeed
12. He suddenly saw Sue_____ the room. He pushed his way_____ the crowd of people to get to her.
A. across; across B. over; through
C. over; into D. across; through
13. It is good for young people to be_____ involved in art training.
A. patiently B. eagerly C. honestly D. actively
14. This is the_____ piano on which the composer created some of his greatest works.
A. actual B. genuine C. real D. original
15. "I felt sorry for her," Bob_____ .
A. added up to B. added to C. added up D. added
16._____ and division are forms of computation.
A. Addition B. Action C. Attention D. Attraction
17. The headmaster is to give a formal_____ at the annual ceremony.
A. address B. argument C. debate D. remark
18. We really_____ him for his courage to say that he was wrong.
A. admired B. excused C. disagreed D. hated
19. He is among those lucky students who have won_____ to first rate university.
A. permission B. admittance C. profession D. admission
20. Mr. Smith_____ that he had made a mistake and he had corrected it.
A. accepted B. admitted C. talked D. promised
答案
1—5 BACCB
6—10 CABBB
11—15 CDDAD
16—20 AAADB
以上就是小编为大家整理的浙江专升本英语入门必备模拟题资料了,请大家持续关注浙江专升本网,小编会为大家带来更多升本资讯和升本问答~